With the vision of "For the moment of inspiration to create a happier future", we have continued to expand our business by solving all sorts of challenges in the research environment with our specialized technical skills based on our abundant experience.
It is said that Japanese laboratories tend to be less attractive in terms of architecture and space than overseas laboratories. We are challenging to design architecture, spaces, equipment, and innovation culture that inspires the researchers and creates communication among them.
Now, due to COVID-19 and technological innovations by AI and IoT, the functions and needs of the research environment are ever changing. We will contribute to technological innovation in Japan through "solutions for various challenges in the research environment" and "products and designs that stimulate the subconscious mind of researchers".
For the moment of inspiration touching researchers' hearts.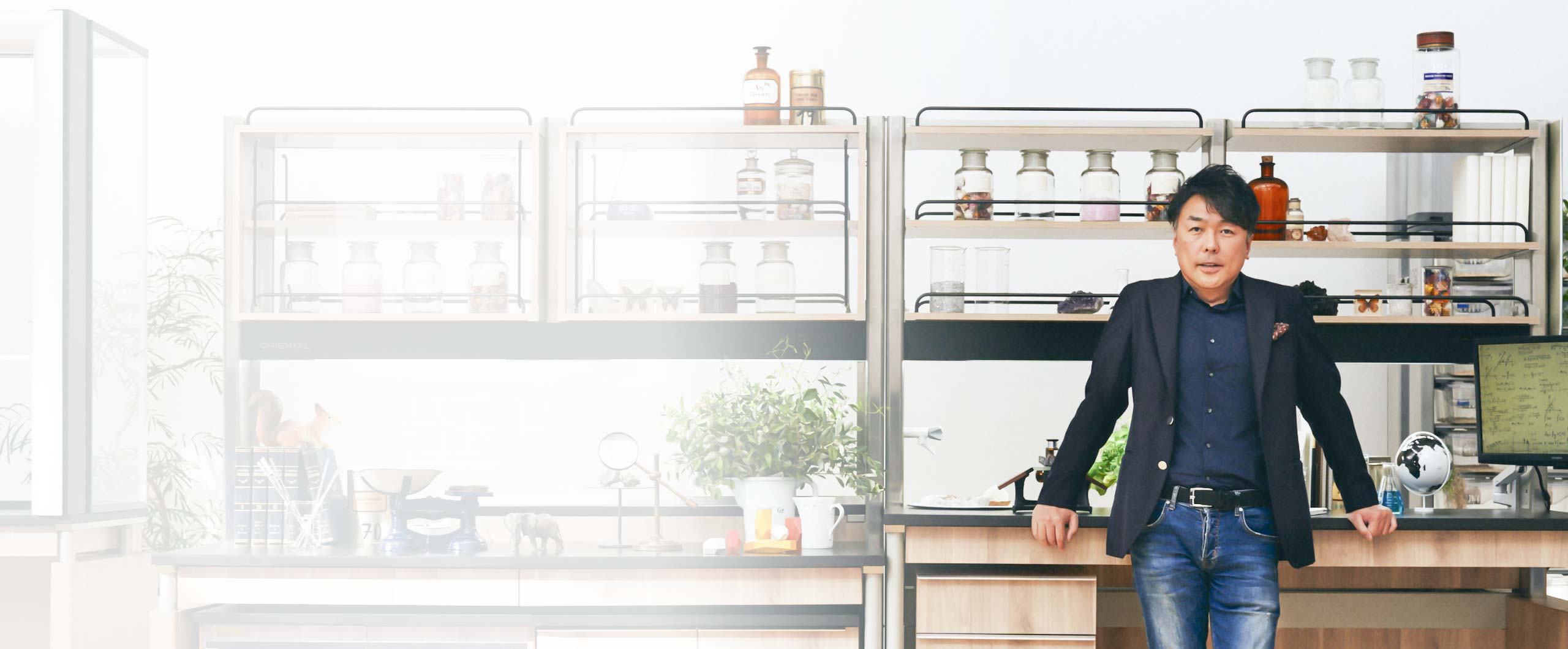 Masayoshi Hayashi
Born in 1972. After graduating from the graphic design department of a university in the United States in 1997, he joined an advertising company and engaged in creating CI/VI and advertisement. After joining ORIENTAL GIKEN INC, he passionate with architectural design, studied under American architect, Mr. Ken Kornberg, and founded Tokyo office of Kornberg Associates. In 2002, he founded PLANUS (renamed from ORIENTAL SERVICE) as the President and CEO. In 2020, he took office as the President and CEO of ORIENTAL GIKEN INC.
CORPORATE PROFILE
President / CEO
Masayoshi Hayashi
Head Office
1-2-4, Uchi-Kanda, Chiyoda-ku, Tokyo 101-0047, Japan
Date of Foundation
13th October, 1978
Capital
A hundred million yen
Number of Employees
179 (as of 1st October, 2020)
Business Outline

Total Engineering of Laboratory
Architectural design of laboratory, lab renovation, development and manufacturing of lab furniture and equipment, work environment measurement, and maintenance service

Affiliated organizations

The Tokyo Chamber of Commerce and Industry
Tsukuba Office for Meeting Opportunities
Tsukuba Global Innovation Promotion Agency
Tsukuba Startup Ecosystem Consortium
Science Academy of Tsukuba
LICENCES & REGISTRATIONS
Registrations and Certifications

Construction Business /
CERTIFICATE OF THE LICENSE GRANTED Licence No. (TOKU-2) No. 13775
CERTIFICATE OF THE LICENSE GRANTED Licence No. (HAN-2) No. 13775
Architectural and construction business / Steel structure contracting business / Carpentry business / Interior finishing business / Machinery, equipment, and facility business / Plumbing business / Demolition work business
Senior registered architect office No. 46513
Importer of Poisonous Substance or Deleterious Substance
General distribution business of Poisonous Substance or Deleterious Substance
Sellers of specially-controlled medical devices
Working environment measurement agency
First-class freight transportation business registered

Licences

Class-1 working environment measurement expert
Senior registered architect
First-Class building operation and management engineer

First-Class plumbing work operation and management engineer
Class-1 health supervisor
Experimental animal technologist